---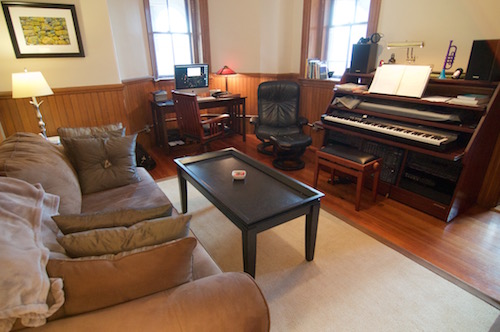 I have been embedded in music since 3rd grade when I started playing trumpet and listened to my Dad's Al Hirt LPs. After several years, and thanks to braces, my interests shifted to piano. While I had formal lessons for several years, I am convinced I never really had the right teacher. I explored classical, then realized Pop was so much easier.
In high school, probably like many others my age, I had an overwhelming desire to explore electronic music. I started venturing into Boston's music stores on my way home from school (the old EU Wurlitzer on Newbury Street and Daddy's Junky Music on Mass Ave) and was blown away by synthesizers. I would have given my right arm for a Korg Poly 61 back then. When I finally jumped into this world of eletronic music. I was overwhelmed and I hadn't a clue what everything was supposed to do. So, I did some research. I regularly visited my local music stores, read Keyboard Magazine religiously, and poured through every catalog I could get my hands on. I realized it really wasn't all that complicated. I started by dusting off my old Yamaha PSR keyboard that I had from high school, connected it to a used Yamaha TG-33 sound module I had just bought and hooked that into a pair of multimedia speakers.
As I have aged, all that synthesizer sound has become completely uninteresting to me. When I am playing keyboards, I am almost always playing a piano sample. I play all kinds of music. I picked up the trumpet again, and dabble in the tin whistle and various other music makers. Music making is fun!
As my band conductor writes on his e-mail signature: "Music is what Feelings sound like." How true is that. If you want to feel, don't just listen to music... play music (and sing)!
Please feel free to write me about your setup or if you have questions or comments. Send mail to: trunfio@bu.edu