River's Edge Community Band Recordings
---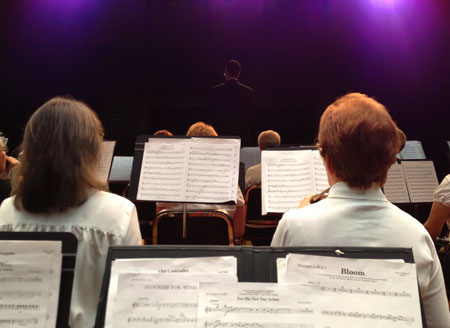 This is a private site for River's Edge Community Band members (led by Jason Caron) and friends. All recordings here are for educational and archival use only as we do not have a license to distribute our performances to the public.
The image on the left is from my seat in the trumpet section before the start of the second half of the Spring '12 anniversary concert while Jason was speaking to the audience. You may also like the High Resolution Version.
---
March 31, 2011 - 10th Anniversary Concert

Download Audio: MP3 Directory (196 kbps) | AAC "iTunes Plus" Directory (256 kbps)
For best results, listen through good speakers or headphones. You can also download the digital files and import them into your iPod or other digital music player.

---
December 10, 2011 - Holiday Concert

Download Video (band portion only): M4V (539MB) | Quicktime MOV (539MB) | Windows MWV (399MB)
This concert features the River's Edge Community Band, River's Edge Chorale and the Pro Musica Youth Chorus. Only the sections of the recording that includes the band is included here. Band selections are, in order, Patapan (French carol; arr by Tom Wallace), Chorale and Alleluia (Howard Hanson), Polish Christmas Music (Johan de Meij), Italian Carol (arr. by Luigi Zaninelli), A Charlie Brown Christmas (Vince Guaraldi & Lee Mendelson, arr. by Carl Strommen). The choruses joined the band for the finale with A Christmas Festival (Leroy Anderson) and Sleigh Ride (Leroy Anderson). This video and sound recording is © 2011 HUD-TV