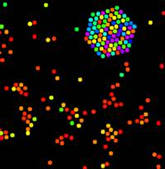 The Center for Polymer Studies at Boston University offers various Teacher Professional Development workshops for science teachers on the Virtual Molecular Dynamics Laboratory.
There is a startling discrepancy between the mental models of microscopic processes possessed by students and those possessed by research scientists. In many courses, students are asked to learn about and believe in a macroscopic world without any direct information on which to base their belief. Research scientists, on the other hand, have a mental model in which macroscopic events are understood in terms of the microscopic behavior of a huge number of individual particles. Our Virtual Molecular Dynamics Laboratory addresses this problem by providing a set of research-based molecular dynamics software tools and project-based curriculum guides. Our modeling tools enable the student to visualize atomic and molecular motion, manipulate atomic interactions, and quantitatively investigate the resulting macroscopic properties of a range of biological, chemical and physical systems.
If you are interested in workshops or professional development, please email Paul Trunfio.