COMPARISONS OF FRACTAL PATTERNS PRODUCED BY SALTS OF COPPER AND ZINC
INVESTIGATORS: Carl Max, Deborah Apple, Marsha Eubanks
I. OBJECTIVE:
To compare the fractal patterns produced by three ionic salts of copper and zinc.
II. HYPOTHESIS:
There will be a similar pattern with a similar fractal dimension produced when the anion of the salts are the same.
III. PROCEDURE:
Electrochemical deposition cells were set up using a voltage of 12 volts and copper anodes and cathodes. All solutions were 0.2 M. Salts were copper sulfate, copper nitrate, copper chloride, zinc sulfate, zinc nitrate, and zinc chloride. Care was taken to stop the zinc cells before all the zinc ions were depleted from the solution. This is visually apparent when copper begins to plate the zinc aggregate. The aggregate was scanned using AppleScan and saved as a MacPaint file. Fractal Dimension 6.0a12 was used to analyze the aggregate scan utilizing both the box and circle method.
IV. RESULTS
Fig. 1. Copper Sulfate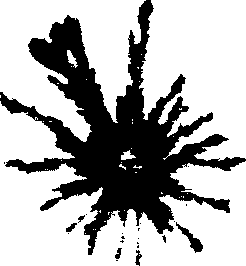 Fig. 2. Copper Nitrate

Fig. 3. Copper Chloride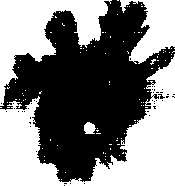 Fig. 4. Zinc Sulfate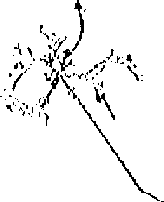 Fig. 5. Zinc Nitrate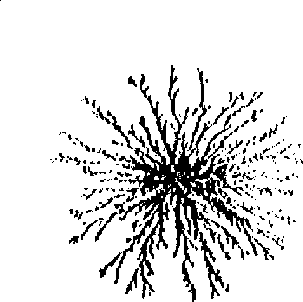 Fig. 6. Zinc Chloride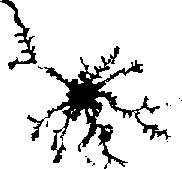 Table 1

| Solution | Fractal Dimension Using Box Method | Fractal Dimension Using Circle Method |
| --- | --- | --- |
| .2M CuSO4 | 1.740 | 1.746 |
| .2M Cu(NO3)2 | 1.617 | 1.572 |
| .2M CuCl2 | 1.846 | 1.839 |
| .2M ZnSO4 | 1.204 | 1.229 |
| .2M Zn(NO3)2 | 1.457 | 1.411 |
| .2M ZnCl2 | 1.450 | 1.152 |
Source of error: There is not enough data for acceptable statistical analysis. Multiple scans as well as multiple analysis of a single scan are necessary. Nitrate salts do not produce stable aggregates. The pattern was disturbed by bubbles, perhaps due to hydrolysis of the water.
V. CONCLUSION
It was noted that generally there is a greater similariy between the aggregates of the metal salts than between those of the individual salts of each metal. However, much more data is required.
Topics for further investigation: Effects of molarity changes. Is there a optimal molarity of each ionic solution at which this investigation should be done? In other experiments we noted that concentration changes drastically effected the aggregate pattern. We also noticed it affected different metals in different ways.
---